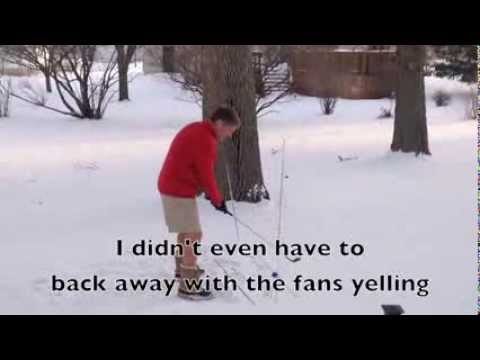 Go grab that sandwedge, put on your snow boots and let's get your bunker/sand game better.  Trust me, it is fun to work on your game this way.  I am just wondering if this could be the next Winter Olympic Sport?  Could be better than curling?  Skeleton?  Luge?  Those aren't lifetime games but WINTER GOLF could be.
LEGAL DISCLAIMER:  No windows or animals were damaged or hurt during the filming of this video.  Mase did sustain a little frostbite but nothing essential was lost.   Though my crack photographer Steph was shaking and laughing while filming this so she might have busted a gut.
Plus we have more videos from Dennis and Eric AND information on how to improve YOUR golf game in our weekly newsletter at…
As promised, the snow is the perfect opportunity to work on  your bunker or sand game.  One must always look for opportunity when it comes upon us.  So seize the day.
Now you may not get all your driveway shoveled with such a small implement.  But your bunker game will improve.
Voting for the newest Winter Olympic Sport begins…